With school officially back in session its time to get your family computer ready for the school year. Tech 2U is here today to show you the hottest online services to help your student succeed this school season.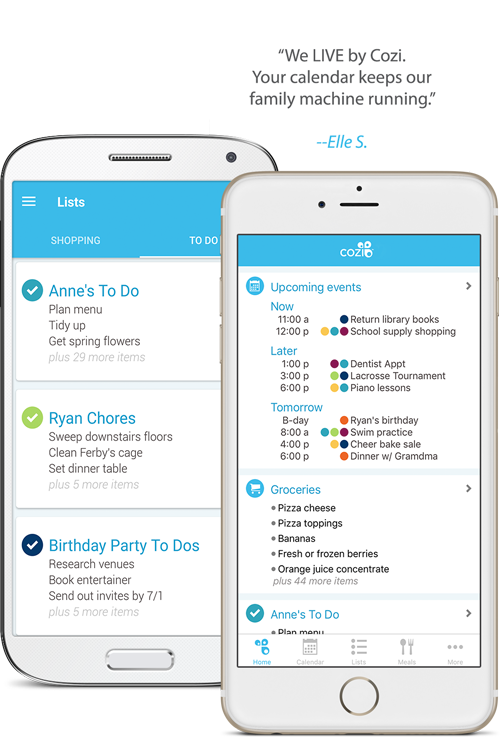 One of the hardest parts of returning to the school grind is keeping track of all the activities. From soccer practice to Dad's chiropractor appointment, the struggle to keep track of these activities and arrive on time is real. Luckily Cozi is here to help. Cozi is a family organizer that builds a color coated calendar to help organize the families life. Cozi boasts a number of features including:
Consolidate the families activities into one location
Real time sharing of activities such as shopping lists and chores
Any mobile device or computer can update and view calendar
Store receipts and grocery lists to easily edit later on
With Cozi Today, everyone in the family can see an up to date list of the days agenda. Cozi is free to use and has a gold upgrade for $20 a year that gives you a month view of the calendar as well as an ad-free experience.
To help your youngsters study this year we highly recommend Study Blue. Study Blue is service that makes it easier to study for tests. With its easy to use interface you can build flashcards of whatever data you want. The application also crowd sources data so you can find millions of flashcard decks at the click of a button. On top of flashcards, Study Blue also offers crowd sourced notes and study guides. The topics range from Algebra to Zoology and is aimed at all ages. Study Blue is free to use for limited access and to get full access there is a $84 a year fee.
Open Study is also a great service to help your kids learn and understand all year. With online study groups that house experts from subjects such as Math, Chemistry, English, and Biology, there is always someone open and willing to answer any questions. Check out http://openstudy.com/ to learn more.
If little Johnny still needs some help than a tutor is most likely the best route. Finding a tutor can be challenging and its almost always left to speculation if the tutor will be good. Luckily Thumbtack is here to help. Thumbtack is a service that matches users with professionals in a number of fields. From tutoring to wedding planners, there is always someone to help on Thumbtack. All you have to do to find a great tutor is to submit the details of what you'll need. The bids will start coming in within a few hours and you can see all the info about them and there estimated price. With reviews from fellow users it is never a mystery as to who will show up at your door.
Be sure to like Tech 2U on Facebook and Follow us on Twitter for more updates and articles like this one!
App of the Week:
MightyTV is a free app for iOS that learns about the shows and movies you watch to suggest new ones that you will like. Swiping right or left on a movie will tell the app that you like it which puts it into a watch list that will help build suggestions. Connect with your friends to get even more recommendations and filter the suggestions by whatever streaming service you have. Check out http://mighty.tv/ for more information.